Stiegl Radler Lemon SET Lemon Naturtrüb
Only 4 items left
Age rating: 16 Years
Price per liter: 2,99 EUR/l
Item No. 0019851
This article is a reservation item!
Frequently Bought Together:
+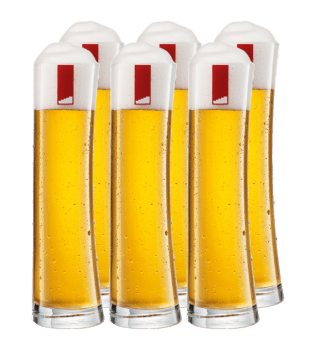 Now also to Germany:
Stiegl Radler Lemon – A refreshingly fruity thirst quencher.
The Stiegl box in a set with the Stiegl Retro postcard including shipping-
costs and deposit.
It's the classical cloudy lemon radler from Stiegl Brewery in Salzburg.
All natural lemon soda with real lemon juice makes it a low calorie and low alcohol beverage. It's a perfect drink - not only at bicycle tours.
20 x 0. 5 l bottles + Stiegl Retro postcard - price includes shipping and deposit

Please notice:
This product is shipped in a 20-bottle cardboard-box, not in the regular Stiegl beer crate.
Returnable bottles can be returned in Austria and in Germany.
Gift Service available
Simply select the appropriate gift wrapping in the basket
This Beer is only available in Germany
Stiegl Radler Lemon
Our head brewer describes our Stiegl Radler Lemon as follows:
"Best Stiegl-Goldbräu blended with lemonade made with real lemon juice results in a sparkling, invigorating taste that appeals to women and men alike. Its delicate hints of citrus and fresh aroma are the reason why this naturally cloudy Radler is one of Austria's most popular beverages."
Product information - Stiegl Radler Lemon
| | |
| --- | --- |
| style: | beer mixer (Radler) |
| fermentation: | bottom fermented |
| gravity: | 5°P |
| ABV: | 2.0%vol. |
| ingredients: | 40% Stiegl Goldbräu (water, barley malt, hops, yeast), 60% multi fruit soda (with 2% natural lemon juice) |
| ideal drinking temperature: | 6-8°C (43°-46° F) |
Allergens
All of our beers and brewed beverages (e.g. lemonade) contain gluten and gluten based products.
Nutritional values (per 100g):
Energy
1391 kj
33.3 kcal
Fats
0 g
- saturated
0 g
Carbohydrates
5.2 g
- sugars
4.2 g
Protein
<0.5 g
Sodium
<0.01 g

For more information about Stiegl Radler Lemon, please visit stiegl.at.
Post Card
Stiegl Post Card
The Stiegl Retro-Postcard can be used in various ways. you can send it to friends around the world, use it as a bookmark or as a decoration.
Product Information - Stiegl PostkarteStiegl Post Card
| | |
| --- | --- |
| Size: | approx. 14.8 x 10.4cm |
| Motive: | classical red-white design of the classical Stiegl Retro-Label |
Shipping Costs
Shipping costs included!

When ordering Stiegl-Goldbräu and Stiegl-Radler to Germany, the shipping costs are included in the total price of 29. 90 EUR per box.

If you order further articles from the Stiegl-Shop, shipping costs of 11,90 EUR will be charged.
Other interesting products