Stiegl Stein Collector's Box (3x 0.5l)
Age rating: 0 Years
Item No. 0006901
This article is a reservation item!
Frequently Bought Together:
+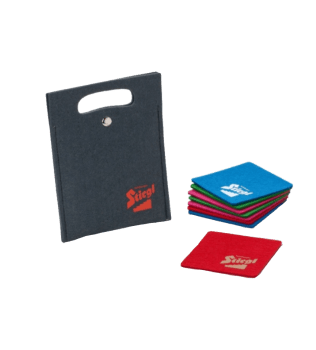 All the colours in one box!

It is stylish, it is trendy and just a little bit crazy – the 0.5l Stiegl stein mug now comes in different colours!
They truly are eye catchers and you can be sure to be the centre of attention, when being the only one in a group to drink your favourite Stiegl beer from such a stein.
But the use of this mug does not stop here - it can also be used as a decorative element in your flat. Be it as a container to collect pens or beer caps - or as a vase for a small bouquet of flowers.

Get all three colourful 0.5l stein mugs at once.

Product Information - Stiegl Stein Collector's Box
Stein mugs are cult figures and belong to every beer garden. If you want to get this beer-garden-feeling for your home, this collector's box is just the right product for you! These colourful steins are fun to look at as well as fun to drink from and you are spoilt for choice between the different colours. Since all good things come in threes, the Stiegl Stein Collector's Box gives you the whole variety of red, blue and green.

| | |
| --- | --- |
| volume: | 0.5l |
| colours: | 1 each in red, blue and green |
| size: | 10cm / 13cm |
| material: | earthenware |
| manufacturer: | Sahm |
| care instructions: | dishwasher-safe |
| beer matching: | Stiegl Classics such as Goldbräu or Paracelsus Zwickl |
The Stiegl Experience
"Today I bake, tomorrow I brew,
The day after that the queen's child comes in." (Grimm's Fairy Tales - Rumpelstiltskin)
Beer has been enjoyed for hundreds of years. But did you know that for a long time, brewing was naturally done by women?
The production of beer was once a normal household activity - just like baking, cooking or washing. Therefore it was natural for women to stand at the brewing kettle.
It was not until the Late Middle Ages that the profession of the beer brewer developed into a male domain.
Today the brewing at the Stiegl Brewery is also in the hand of men. Our master brewers make sure that your favourite Stiegl beer always tastes as good as it always has!
OUR ANCESTOR'S BEER MUGS
For all fans of old beer mugs and steins, the Stiegl Brauwelt is just the place to go! In your brewery's museum in Salzburg there is a whole exhibition of unique and special mugs and stones.
Over there you don't only get to learn a lot about these vessels, but also about the Stiegl Brewery's vast history.
If you want to give yourself an insight into the process of beer brewing, you can look our brewers over the shoulder.
On
www.brauwelt.at
you find all important information for your visit. We look forward to welcome you.
Other interesting products