Stiegl Craft Beer - Gipfelstürmer (6 x 0,75 l)
Stiegl Craft Beer Gipfelstürmer - A refreshing surprise from the mountains.

This hoppy wheat-style beer is brewed with the ancient cereal spelt.
The shining peach hue and creamy froth is your first impression of this speciality beer. Irresistibly fruity aroma ascents from the glass and increases your anticipation of the first sip. You will be rewarded with balanced hoppy notes, joined by a harmonious malty body and complemented by a delicately sparkling carbonation.

1 Carton = 6x Bottle 0.75 l

Stiegl Craft Beer Gipfelstürmer is available year-round.

Beverages can only be sent to postal addresses in Austria.

This Beer is only available in Austria
Age rating: 16 Years
Price per liter: 6,93 EUR/l
Item No. 0019136
This article is a reservation item!
Frequently Bought Together: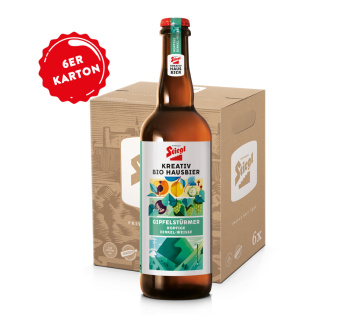 +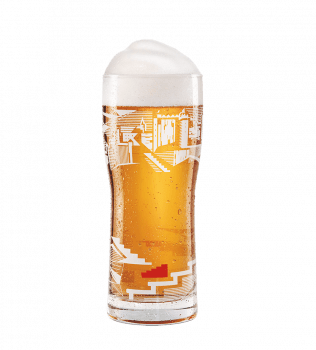 =
The heart of the Stiegl-"Hausbrauerei" beats in the ancient vaulted basements of our old-brewery building. In two small copper kettles, strictly limited quantities of beer are brewed by hand, which are subsequently partially matured in barrels in our aging cellar.
This is our tribute to the ancient art of brewing, which we still celebrate until this day. The creativity of our brew masters is given free rein, and the results are our Stiegl Craft Beers.
These beers are unparalleled and look for a resembling in their field. Stiegl Craft Beers stand for the highest level of brewing culture, for individuality and diversity.
---
Stiegl Craft Beer GIPFELSTÜRMER

Our creative head brewer describes our Stiegl Craft Beer Gipfelstürmer as follows:
"An orange colour like the rising sun and a cream-colored foam crown make you want to take the first sip. Irresistibly fruity, it smells of green banana, lime and apricot and a hint of cloves which is typical for wheat beer from the glass. Brisk hoppiness connects to a balanced malt body, and the fine sparkling carbonic acid acts vividly on the palate. The finish – is a delicate, hoppy affair."

The Stiegl Craft Beer Gipfelstürmer is available all-year.

Product information - Stiegl Craft Beer Gipfelstürmer
| | |
| --- | --- |
| Style: | Spelt full beer |
| Fermentation: | top-fermented |
| Gravity: | 12°P |
| ABV: | 5,2 % vol. |
| Ingredients: | water, BIO-spelt malt, BIO-barley malt, BIO-hops, yeast |
| Ideal drinking temperature | 7-9°C (45-48°F) |
| Ideal glass ware | Stiegl Craft Beer Glass or Stiegl Straight up Glass |
| Cilunary matching | as an aperitif, aromatic spreads and pâtés, grilled fish, seafood |

0.75l disposable bottle

All ingredients marked with "BIO" have the organic control point code AT-BIO-501. This means that they are certified organic by the control centre Salzburger Landwirtschaftlichen Kontroll GesmbH (SLK).
You can find more information on the organic certificates of Stiegl at stiegl.at.
Allergens
All of our beers and brewed beverages (e.g. lemonade) contain gluten and gluten based products.

For more information about Stiegl Craft Beer Gipfelstürmer, please visit stiegl.at.

The Stiegl-Experience
"Today I bake, tomorrow I brew,
The day after that the queen's child comes in." (Grimm's Fairy Tales - Rumpelstiltskin)
Beer has been enjoyed for hundreds of years. But did you know that for a long time, brewing was naturally done by women?
The production of beer was once a normal household activity - just like baking, cooking or washing. Therefore it was natural for women to stand at the brewing kettle.
It was not until the Late Middle Ages that the profession of the beer brewer developed into a male domain.
Today the brewing at the Stiegl Brewery is also in the hand of men. Our master brewers make sure that your favourite Stiegl beer always tastes as good as it always has!
THE CREATIVE STREAK OF OUR BREWERS
In addition to brewing the classic Stiegl range, our master brewers also have the opportunity to live out their creative veins and produce modern and unusual beer styles - often referred to as "craft beer". Besides
Columbus 1492 Pale Ale
, the result are the annual, limited-edition "
Sonnenkönig
" beers, as well as the regularly changing Stiegl Craft Beers.
If you want to get an insight into the beer brewing process, you can visit our brewers.
Simply go to www.brauwelt.at to see all important information
www.brauwelt.at
. We are looking forward to your visit.