Book "525 Jahre Salzburger Stiegl Bier" (German edition)
Reserve item
If you would like to be informed when this product is back in stock, please enter your desired quantity and e-mail address.
As soon as the article is available again in your desired quantity, you will receive an e-mail from us.
Age rating: 0 Years
Item No. 0006197
This article is a reservation item!
Frequently Bought Together: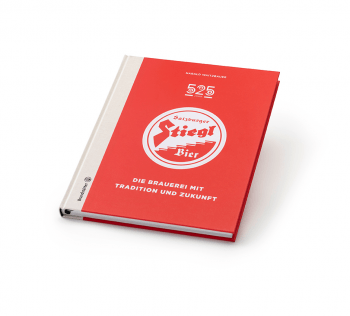 +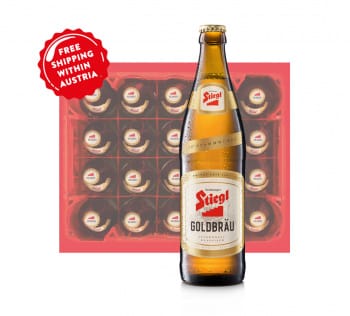 A company history of a special kind: Since 1492 the Stieglbrauerei zu Salzburg has been producing beer.
Glamorous eras, baroque rulers, wars, times of crisis, modernization and globalization - this privately owned Austrian company has lived through 525 years of Central European history and has also written its own history on a regional level.
Find out more in this book...

A must-have for all beer fans and those interested in economic history.

Book "525 Jahre Salzburger Stiegl-Bier. Die Brauerei mit Tradition und Zukunft"
The company anniversary in 2017 was the perfect opportunity to publish this chronicle of the Stiegl Brewery. 525 years of Salzburg beer tradition are also a piece of contemporary history. A real "must-have" for all beer fans.

When brewing was first provably started in Salzburg's Stieglbräu in 1492, Columbus discovered America and the feudally ruled archdiocese of Salzburg experienced an economic upswing. Since that time, Stiegl, the privately owned Austrian company, has experienced an incredible number of events: wars, crises and heydays, industrialization and demographic explosions, the emergence of the consumer goods industry, the technical revolution in agriculture and, last but not least, the consolidation and globalization of the beer industry.
But above all: owners who, with a great deal of passion and commitment ensured over the centuries, that the Stiegl success story could be continued until today.
Product Information - Book "525 Jahre Salzburger Stiegl Bier. Die Brauerei mit Tradition und Zukunft."
titel:
525 Jahre Salzburger Stiegl Bier. Die Brauerei mit Tradition und Zukunft.
(525 years of Stiegl Brewery of Salzburg. The Brewery with tradition and future"
author(s):
Heinrich Dieter & Alessandra Kiener (Ed.), Harald Waitzbauer (text)
Gebundene Ausgabe:
176 pages (ca. 160 illustrations)
publisher:
Brandstätter Verlag
edition:
1. edit. (June 26th 2017)
language:
German
ISBN-10:
371060124X
ISBN-13:
978-3-7106-0124-8
dimension:
22,7 x 2,3 x 28,7 cm


You find more information about the presentation of this book on stiegl.at.

About the Editor:
Heinrich Dieter Kiener has been the owner and managing director of the Stiegl Brewery in Salzburg for the past 25 years.
As an entrepreneur he attaches great value to tradition and sustainability.

Recently, the head of one of the oldest Austrian breweries has established Stiegl Gut Wildshut. In this organic estate, he has been cultivating rare, ancient grains and endangered lifestock.
The Stiegl-Experience
"Today I bake, tomorrow I brew,
The day after that the queen's child comes in." (Grimm's Fairy Tales - Rumpelstiltskin)
Beer has been enjoyed for hundreds of years. But did you know that for a long time, brewing was naturally done by women?
The production of beer was once a normal household activity - just like baking, cooking or washing. Therefore it was natural for women to stand at the brewing kettle.
It was not until the Late Middle Ages that the profession of the beer brewer developed into a male domain.
Today the brewing at the Stiegl Brewery is also in the hand of men. Our master brewers make sure that your favourite Stiegl beer always tastes as good as it always has!
STIEGL - THE SALZBURG BREWERY WITH A LONG TRADITION
For 525 years, the privately owned Stiegl Brewery stood for "the art of brewing at the top of the steps/at its highest level" ("Braukunst auf höchster Stufe").
In Salzburg we not only indulge the palates of beer lovers, but also offer an unforgettable experience for all senses. In the largest brewery museum in Austria, you will not only experience the long history of beer and the Stiegl brewery.
If you want to give yourself an insight into the process of beer brewing, you can look our brewers over the shoulder.
On
www.brauwelt.at
you find all important information for your visit. We look forward to welcome you.
Other interesting products