Book "Unser Gut Wildshut" (German edition)
Age rating: 0 Years
Item No. 0006198
This article is a reservation item!
Frequently Bought Together: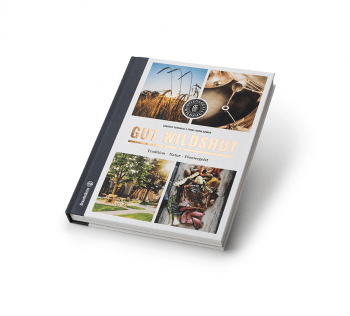 +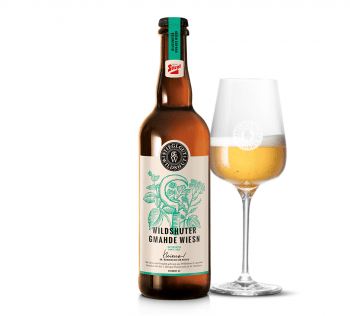 Heinrich Dieter and Alessandra Kiener, Stiegl brewery's owner-family, strongly beliefe that brewing already starts in the soil. So they founded Stiegl-Farm Wildshut, Austria's first Beer Farm, where they show how this philosophy can be filled with life. Where Upper Austria, Salzburg and Bavaria meet, a dream has come to life for several years.
"Unser Gut Wildshut. Tradition - Natur - Pioniergeist" presents this special place that stands for sustainable agriculture, regional biodiversity and original enjoyment like no other.
Impressions of the estate and the attitude behind it are rounded off by traditional recipes from the Innviertel and Salzburger Land.

The ideal gift book for beer lovers and fans of organic lifestyle.

"With us, the farmer actually only eats and drinks, what he knows."
Markus Trinker, creative head-brewer
Our Stiegl-Farm Wildshut is Austria's first Beer Farm. Located 30 kilometres north of the city of Salzburg, we operate our own organic farming with everything that belongs to it.
On the one hand, the livestock sector with mainly old breeds. Sheep, cattle and pigs are kept in a manner appropriate to the needs of the species. But that's not all, we have to offer:
On our Beer Farm we grow the ancient grains, which we malt, roast and process on-site, in order to brew our Wildshut Craft Beers.
GREEN TREASURES FOR COMING GENERATIONS
In times when beers are becoming more and more similar, since all breweries use the same ingredients, we want to make things different. Therefore our Beer Farm is used as a think tank. Our head brewers experiment with new recipes or variations. In 2015 an "ancient beer" was created in the way, the Sumerians already brew beer more than 5.000 years ago. This brew was fermented and matured for about half a year in huge clay amphorae, we have buried deep into the sand of our estate. The result were 3,500 bottles of "Wildshuter Urbier", a drink with champagne-like acidity and a uniquely balanced combination of acid, herbal and fruity notes. This very special beer is already sold out
YOU'D LIKE TO VISIT US?
For all information about the Wildshut Beer Farm, please visit:
www.biergut.at
(website in German)
"WILDSHUT IS JUST THE WAY WE IMAGINE HEAVEN TO BE: A BEERGARDEN OF EDEN."
Did we catch your attention? Have a look at our
image film about our Stiegl-Farm Wildshut
- Austria's 1st Beer Farm.
YOU WOULD LIKE TO HAVE YOUR VERY OWN PIECE OF WILDSHUT FOR AT HOME?
The new
book "Gut Wildshut"
is truly an eye-catcher for every bookshelf or living room table.
You'll find more interesting Wildshut-product below on this page
Product Information
Book "Unser Gut Wildshut. Tradition - Natur - Pioniergeist"
"The beauty of simple things."
At a place where Upper Austria, Salzburg and Bavaria meet, a dream has become a reality for some years: Stiegl-Farm Wildshut! With the first Beer Farm in Austria, Heinrich Dieter and Alessandra Kiener have created an idylic place which stands for sustainable agriculture, diversity and above all experimentation and enjoyment.
At this place, the owners of the Stiegl brewery cultivate ancient grain crops in organic farming, which is malted in a worldwide unique combination of malting and roasting plant. Special, first class beers are brewed with traditional craftmanship and can be enjoyed right on site. In Wildshut, hospitality is just as important as sustainability. Delicious recipes from the in-house tavern give you a foretaste, from popular classics and a variety of sandwiches to light delicacies and sweet delicacies. A real insider tip for connoisseurs!


product information - book "Unser Gut Wildshut. Tradition - Natur - Pioniergeist"
| | |
| --- | --- |
| title: | Unser Gut Wildshut. Tradition - Natur - Pioniergeist |
| author(s): | Heinrich Dieter & Alessandra Kiener (ed.), Franz-Maria Sonner (text) |
| hardcover: | 240 pages (ca. 180 illustrations) |
| publisher: | Brandstätter Verlag |
| edition: | 1st. edition (june 26th 2017) |
| language: | German |
| ISBN-10: | 3710601266 |
| ISBN-13: | 978-3-7106-0126-2 |
| size and/or weight: | 23 x 2.9 x 29 cm |
About the editor:
Heinrich Dieter Kiener has been the fourth generation owner and managing director of the Stiegl Brewery in Salzburg for more than 25 years. As an entrepreneur, he attaches great importance to tradition and sustainability.
Recently, the manager of one of Austria's oldest breweries has started growing rare crops on his own estate.
Other interesting products