Currently unavailable.
Age rating: 0 Years
Item No. 0006840
This article is a reservation item!
Article not in stock at the moment?
Frequently Bought Together: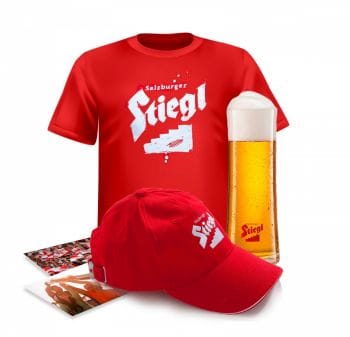 +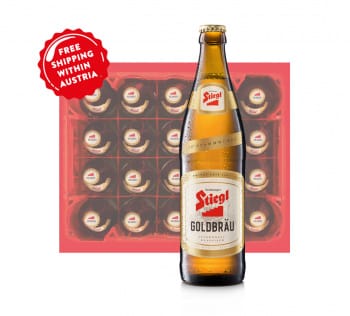 If the warmer months mean your evenings are football filled affairs then we've got just what you need: decked out in a Stiegl t-shirt and cap you can cheer on your favourite teams from the vip the terrace on the sofa! And so you can raise a glass to every goal we've included a Stiegl beer glass to complete the perfect fan package!

Fan-Package: For real Stiegl-Fans (women)
No matter the occasion - this package gets you the Stiegl look.
By wearing the Stiegl-branded shirt and baseball cap, you show everyone else what is your favourite beer brand. Obviously, you also enjoy your favourite beer from the matching Stiegl-Becher glass.

The fan package consists of:

1x Stiegl Branded t-shirt (various sizes)
1x Stiegl baseball cap
1x Stiegl Becher 0.3l
Product information - Stiegl Fan-Package (women)
Stiegl Branded Shirt red (women)
material:
100% cotton (Öko-Tex 100)
colour:
red with white Stiegl-printing
size:
various sizes (S, M, L, XL)
length:
normal length
fitting:
normal
neck:
round neck
total length:
66 cm at size M
arm length:
short-sleeved
washing instructions:
mashine wash cold (30°C)
do not dry
production:
made in Portugal

Stiegl baseball cap:
| | |
| --- | --- |
| size: | one-size-fits-all |
| colour: | Red |
| material: | cotton |
| washing instructions: | hand wash cold (30°C) |
| details: | white Stiegl-embroidery |
Stiegl Becher
| | |
| --- | --- |
| volume: | 0.3l |
| dimensions (H / W): | 19cm/ 7cm |
| material: | glass |
| manufacturer: | Sahm |
| washing instructions: | dishwasher-safe |
| details: | Stiegl-logo engraved in bottom for continuous bubbles |
| recommended beer: | Stiegl Klassiker wie Goldbräu oder Paracelsus Zwickl |
The Stiegl-Experience
"Today I bake, tomorrow I brew,
The day after that the queen's child comes in." (Grimm's Fairy Tales - Rumpelstiltskin)
Beer has been enjoyed for hundreds of years. But did you know that for a long time, brewing was naturally done by women?
The production of beer was once a normal household activity - just like baking, cooking or washing. Therefore it was natural for women to stand at the brewing kettle.
It was not until the Late Middle Ages that the profession of the beer brewer developed into a male domain.
Today the brewing at the Stiegl Brewery is also in the hand of men. Our master brewers make sure that your favourite Stiegl beer always tastes as good as it always has!
STIEGL - THE SALZBURG BREWERY WITH A LONG TRADITION
For 525 years, the privately owned Stiegl Brewery stood for "the art of brewing at the top of the steps/at its highest level" ("Braukunst auf höchster Stufe").
In Salzburg we not only indulge the palates of beer lovers, but also offer an unforgettable experience for all senses. In the largest brewery museum in Austria, you will not only experience the long history of beer and the Stiegl brewery.
If you want to give yourself an insight into the process of beer brewing, you can look our brewers over the shoulder.
On
www.brauwelt.at
you find all important information for your visit. We look forward to welcome you.
Other interesting products