Stiegl Craft Beer - Christkindl
Age rating: 16 Years
Price per liter: 7,67 EUR/l
Item No. 0019728
This article is a reservation item!
Stiegl Craft Beer CHRISTKINDL –
Today: Angelsville. Silent night, beery night!
.
This Honey Amber Ale is a very special kind of beer. Inspired by the British art of brewing, Christkindl excels through mild notes of honey, artistically combined with hoppy and biscuit-like caramel flavours.
Bottle 0.75 l
Available to approx. Descember 31st 2018,
As long as stocks last!
HINT: Don't miss any Stiegl Craft beers by getting a Craft Beer Subscription!
Beverages can only be sent to postal addresses in Austria.
This Beer is only available in Austria
The heart of the Stiegl-"Hausbrauerei" beats in the ancient vaulted basements of our old-brewery building. In two small copper kettles, strictly limited quantities of beer are brewed by hand, which are subsequently partially matured in barrels in our aging cellar.
This is our tribute to the ancient art of brewing, which we still celebrate until this day.
The creativity of our brew masters is given free rein, and the results are our Stiegl Craft Beers.
These beers are unparalleled and look for a resembling in their field. Stiegl Craft Beers stand for the highest level of brewing culture, for individuality and diversity.

---
Stiegl Craft Beer CHRISTKINDL
The production of honey beers has a long tradition: Refining beer with honey dates as far back as to the time of the ancient Germanic peoples. They were inspired by the honey wine "Met", which has been enjoyed by the gods of Nordic mythology. Also the Vikings are known to have brewed a special beer to celebrate winter solstice at the end of December.
Whether their Christmas season turned out to be as peaceful and reflective as ours? After a few swallows of this festive Stiegl Christmas beer, this question can quickly be answered with a "no".

Our creative head brewer describes our Stiegl Craft Beer Christkindl as follows:
"Dressed in a deep copper with red highlights and a snow-white foam crown, 'Christkindl' promises festive pleasure. The variety of aromas on the nose range from caramel to delicate biscuit, blending together with compelling hints of honey. The mild taste of organic honey sets the tone well into the finish, while an astoundingly harmonious composition of delicate hoppy notes and a fine effervescence please the palate with a touch of Christmas."

Product information - Stiegl Craft Beer Christkindl
| | |
| --- | --- |
| style: | Vollbier (Honey Amber Ale) |
| fermentation: | top fermented |
| gravity: | 13.5°P |
| ABV: | 5,7%vol. |
| ingredients: | water, BIO-barley malt, BIO-honey, BIO-hops (BIO-Spalter Select), ale yeast |
| ideal drinking temperature: | 7-9°C ( 45-48°F) |
| ideal glass ware: | Stiegl Craft Beer Glass or Stiegl-Straight up Glass |
| culinary matching: | goose and duck, leg of lamb, mature cheeses, caramel and nutty desserts, gingerbread |

All ingredients marked with "BIO" have the organic control point code AT-BIO-501. This means that they are certified organic by the control centre Salzburger Landwirtschaftlichen Kontroll GesmbH (SLK).
You can find more information on the organic certificates of Stiegl at stiegl.at.
Allergens
All of our beers and brewed beverages (e.g. lemonade) contain gluten and gluten based products.

For more information about Stiegl Craft Beer Christkindl, please visit stiegl.at.
The Stiegl-Experience
"Beer is a truly divine medicine." (Paracelsus)
Beer has been enjoyed hundreds of years ago. But did you know that beer has been one of the few "safe" foods for a long time?
Up to the early Modern Period, clean drinking water was the exception rather than the rule. Very often epidemics were caused by polluted water. Since beer is boiled during the brewing process, bacteria from the water are killed. In addition to that, beer contains hops and alcohol. Both of which have germ-inhibiting properties. Thus, beer was a safe drink in early times. It is also very nutritious and contains a number of vitamins and minerals. So it was not only Saint Hildegard of Bingen but also Salzburg's doctor and mystic Paracelsus, who underlined the high value of beer.
Up until today, our brew masters take good care of this fact, so your Stiegl beer is a truly divine drink.
THE CREATIVE STREAK OF OUR BREWERS
In addition to brewing the classic Stiegl range, our master brewers also have the opportunity to live out their creative veins and produce modern and unusual beer styles - often referred to as "craft beer". Besides
Columbus 1492 Pale Ale
, the result are the annual, limited-edition "
Sonnenkönig
" beers, as well as the regularly changing Stiegl Craft Beers.
If you want to get an insight into the beer brewing process, you can visit our brewers.
On
www.brauwelt.at
you find all important information for your visit. We look forward to welcome you.
Other interesting products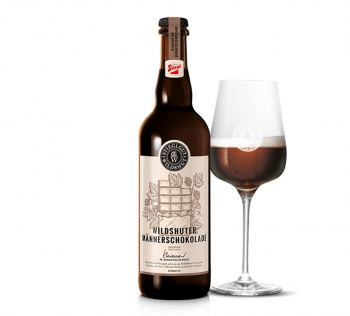 rich and aromatic
No shipping to your Country available
No shipping to your Country available