Wildshuter Organic Beer Vinegar
Age rating: 0 Years
Price per liter: 32,36 EUR/l
Item No. 0004901
This article is a reservation item!
Frequently Bought Together: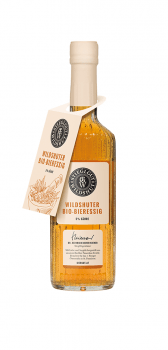 +
Our Wildshut Organic Beer Vinegar is a high quality luxury food. Its unique flavour develops during the time we give it to mature.
With love and care, it is made with our organic beer
Paracelsus Zwickl
.
You can use this beer vinegar to season food, for delicious marinades or even enjoy it as digestif. Your creativity knows no limits!
"With us, the farmer actually only eats and drinks, what he knows."
Markus Trinker, creative head-brewer
Our Stiegl-Farm Wildshut is Austria's first Beer Farm. Located 30 kilometres north of the city of Salzburg, we operate our own organic farming with everything that belongs to it.
On the one hand, the livestock sector with mainly old breeds. Sheep, cattle and pigs are kept in a manner appropriate to the needs of the species. But that's not all, we have to offer:
On our Beer Farm we grow the ancient grains, which we malt, roast and process on-site, in order to brew our Wildshut Craft Beers.
GREEN TREASURES FOR COMING GENERATIONS
In times when beers are becoming more and more similar, since all breweries use the same ingredients, we want to make things different. Therefore our Beer Farm is used as a think tank. Our head brewers experiment with new recipes or variations. In 2015 an "ancient beer" was created in the way, the Sumerians already brew beer more than 5.000 years ago. This brew was fermented and matured for about half a year in huge clay amphorae, we have buried deep into the sand of our estate. The result were 3,500 bottles of "Wildshuter Urbier", a drink with champagne-like acidity and a uniquely balanced combination of acid, herbal and fruity notes. This very special beer is already sold out
YOU'D LIKE TO VISIT US?
For all information about the Wildshut Beer Farm, please visit:
www.biergut.at
(website in German)
"WILDSHUT IS JUST THE WAY WE IMAGINE HEAVEN TO BE: A BEERGARDEN OF EDEN."
Did we catch your attention? Have a look at our
image film about our Stiegl-Farm Wildshut
- Austria's 1st Beer Farm.
YOU WOULD LIKE TO HAVE YOUR VERY OWN PIECE OF WILDSHUT FOR AT HOME?
The new
book "Gut Wildshut"
is truly an eye-catcher for every bookshelf or living room table.
You'll find more interesting Wildshut-product below on this page
Product Information
Wildshut organic Beer Vinegar
The raw material for the Wildshut organic Beer Vinegar is our Paracelsus Bio-Zwickl.
This beer is carefully processed in the manufactory of Erwin Gegenbauer in Vienna, who describes himself as "the world's smallest vinegar brewer". The Zwickl-beer is carefully refined to the Wildshut Organic Beer Vinegar.
This vinegar is a natural, living product. It is neither filtered nor pasteurized and therefore contains naturally occurring acetic acid bacteria.
Produkt Information - Wildshut organic Beer Vinegar
| | |
| --- | --- |
| style: | vinegar (5% acidity) |
| filling quantity: | 250ml |
| ingredients: | water, BIO-barley malt, BIO-wheat malt, BIO-hops, yeast |

All ingredients marked with "BIO" have the organic control point code AT-BIO-501. This means that they are certified organic by the control centre Salzburger Landwirtschaftlichen Kontroll GesmbH (SLK).
You can find more information on the organic certificates of Stiegl at auf stiegl.at.


Produced for Stiegl by:

Erwin Gegenbauer

WIENER ESSIG BRAUEREI

Waldgasse 3
1100 Wien

Allergens
All of our beers and brewed beverages (e.g. lemonade) contain gluten and gluten based products.
Other interesting products
a high-proof speciality
No shipping to your Country available
No shipping to your Country available