Original Stieglbock (20x0.5 L)
Age rating: 16 Years
Price per liter: 2,80 EUR/l
Item No. 0000025
This article is a reservation item!
Frequently Bought Together: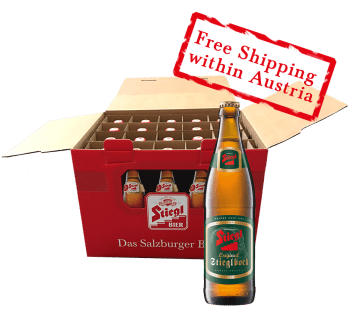 +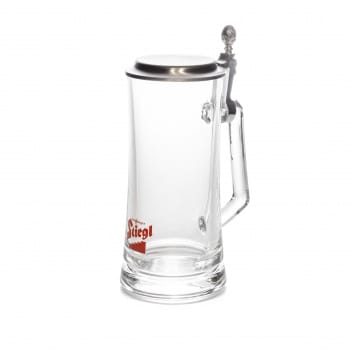 Original Stiegl Bock–
a powerful original
.
The days are getting shorter and everyone is looking forward to the first snow. What is there better than sitting comfortably in the warm home and enjoying a warming Stieglbock?
The festive beer for the cold season.
Only available for a short period of time!
20 x 0,5 l Bottles - Price includes FREE SHIPPING*!


Please notice:
This product is shipped in a 20-bottle cardboard-box, not in the regular Stiegl-beer crate.
The bottle deposit of 1,80 EUR is for the whole box of 20 bottles.
Beverages can only be sent to postal addresses in Austria.
* shipping only to Austria!
This Beer is only available in Austria
Original Stieglbock
This deep amber-coloured beer gives you a warm feeling with every sip you take. The complex, fine hopped aroma is rounded off by an exceptionally long-lasting finish. The extra-long, cold maturation makes this beer a unique festive pleasure.

Our head brewer describes our Original Stieglbock as follows:
"A powerful original from Stiegl, rich in content and multi-faceted. Velvety on the palate, full-bodied with a warming, long-lasting finish. Months of cold maturation make this specialty beer a truly authentic pleasure."
Product information - Original Stieglbock
| | |
| --- | --- |
| style: | Vollbier (Bock, Heller Bock) |
| fermentation: | bottom fermented |
| gravity: | 16.5°P |
| ABV: | 7.0%vol. |
| ingredients: | water, barley malt, hops, yeast |
| ideal drinking temperature: | 8-10°C (46-50°F) |
Allergens
Al of ourl beers and brewed beverages (e.g. lemonade) contain gluten and gluten based products.
Nutritional values (per 100g):
Energy
239 kj
57.2 kcal
Fats
0 g
- saturated
0 g
Carbohydrates
3.9 g
- sugars
0 g
Protein
<0.8 g
Sodium
<0.01 g

For more information about the Original Stieglbock, please visit stiegl.at.
Shipping Costs
When ordering only boxes of Stiegl Classics beers in boxes of 20 bottles, the shipping costs are included in the price of 24.90 EUR.

If you order additional articles in the online store, the shipping costs are 6.90 EUR (to Austria), up to a total order value of 70 EUR (i.e. price of beer-box(es) + price of further articles).
At a total order value of 70 EUR, free shipping within Austria.

For shipping costs to other countries, please see shipping & payment.


Beverages can only be sent to postal addresses in Austria.
The Stiegl-Experience
"Today I bake, tomorrow I brew,
The day after that the queen's child comes in." (Grimm's Fairy Tales - Rumpelstiltskin)
Beer has been enjoyed for hundreds of years. But did you know that for a long time, brewing was naturally done by women?
The production of beer was once a normal household activity - just like baking, cooking or washing. Therefore it was natural for women to stand at the brewing kettle.
It was not until the Late Middle Ages that the profession of the beer brewer developed into a male domain.
Today the brewing at the Stiegl Brewery is also in the hand of men. Our master brewers make sure that your favourite Stiegl beer always tastes as good as it always has!
STIEGL - THE SALZBURG BREWERY WITH A LONG TRADITION
For 525 years, the privately owned Stiegl Brewery stood for "the art of brewing at the top of the steps/at its highest level" ("Braukunst auf höchster Stufe").
In Salzburg we not only indulge the palates of beer lovers, but also offer an unforgettable experience for all senses. In the largest brewery museum in Austria, you will not only experience the long history of beer and the Stiegl brewery.
If you want to give yourself an insight into the process of beer brewing, you can look our brewers over the shoulder.
On
www.brauwelt.at
you find all important information for your visit. We look forward to welcome you.
Other interesting products