Stiegl Blouse, white (various sizes)
Age rating: 0 Years
Item No. 0141257
This article is a reservation item!
Frequently Bought Together: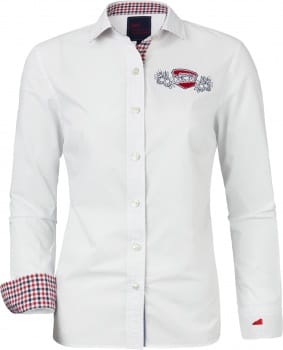 +

Noblesse meets modernity.

In this Stiegl Blouse, classic plain white meets modern check patterns. It goes well with formal occasions, but as part of the casual look, you can also use the Stiegl Blouse.
The side is embroidered with "Die Kunst, das Leben zu genießen" ("The art of enjoying life"), which should certainly help as a reminder to relax with a Stiegl!

How beer turns into fashion.
What do sporty and beer-loving ladies and gentlemen wear today? A fresh Stiegl!
Not tapped, but woven.

The label "Stiegl-Fashion" was created with the aim of offering high-quality, sustainable clothing for Stiegl-fans. In the same way we produce our beer with as much Austrian ingredients as possible, we pay close attention to our fashion possibly being 100% "made in Europe". In collaboration with selected partners, we offer you the finest fashion, which is made with just as much love and skill as our beers.

So Stiegl not only does brew great beers - Stiegl also makes you beautiful!
Product Information
Stiegl Blouse
The Stiegl Blouse is a truely fashionable garment. It imparts a timeless elegance, while the embroideries give it a modern style.
The coat of arms on the chest illustrate Hohensalzburg Castle, flanked by hop cones and barley ears.
Product Information - Stiegl Blouse
size:
various sizes (XS, S, M, L, XL, XXL, XXL)
colour:
white
material:
100% cotton
fit:
fitted slim fit
collar:
reinforced, folded collar, button-down
length:
normal length
sleeves:
long sleeves (58cm at size S)
total length:
64cm at size S
chest width:
38cm at size S
fastener:
Stiegl-buttons
pockets:
side pockets
manufacturer:
Enzo Lorenzo
country of origin:
Germany
care instructions:
machine wash at 40°C
do not tumble dry
details:
- embroideries and checked lined cuff and collar (inside).
- black and red Stiegl-"coat of arms"-Emblem (embroidery) on left chest side.
- red Stiel Stairs (embroidery) on left cuff.
- black embroidery "Die Kunst, das Leben zu genießen" on the side.
Other interesting products