Stiegl-Fashion Shirt short
Age rating: 0 Years
Item No. 0141037
This article is a reservation item!
Frequently Bought Together: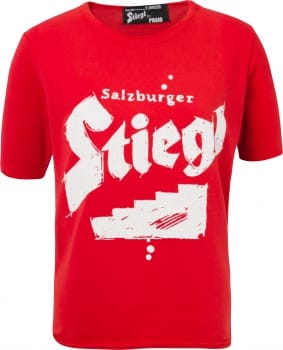 +

Sometimes we want to show what we drink.
This trendy Jersey sweatshit from the The collection "
Stiegl by PRAIO
" is more than just a normal fan shirt from your favourite beer brand!
It can be perfectly paired with Stiegl Shorts or combined with a
pair of Stiegl Jeans
to make a fantastic outfit!
Also available in the colours
grey
and
white
.
Stiegl – the beer that fits you well!
What do beer-loving and fashion-conscious people like to wear? For sure a Stiegl!
Not tapped, but woven!

In collaboration with the young Venetian fashion label "Praio", Stiegl has launched its own fashion line called "Stiegl by Praio".

Stiegl Beer and Stiegl Fashion have one thing in common: The conscious use of resources and sustainability.

Finest textiles – made in high quality with great attention to details. Just like Stiegl, Praio pays close attention to sustainable production. The raw materials are gently processed from raw, natural cotton. Environmental protection and ethical working conditions are very important in this fashion "Made in Italy".
Your Stiegl clothes are made with much love and skill – just like your favourite Stiegl Beer.
Product Information
Stiegl-Fashion T-Shirt, red
The jersey fabric is very soft and cozy - so this t-shirt feels pleasent on the skin.
Product Information - Stiegl-Fashion T-Shirt, red
size:
various sizes (XS, S, M, L, XL, XXL, XXXL)
manufacturer:
Praio
colour:
red, large white Stiegl logo print
material:
100% cotton
material design:
jersey
fit:
wide cut
neckline:
crew neck
sleeves:
short
country of origin:
Italy
care instructions:
machine wash cold, 30°C
do not tumble dry
Other interesting products