Stiegl Fashion Sweat Jacket, red (various sizes)
Currently unavailable.
Age rating: 0 Years
Item No. 0141161
This article is a reservation item!
Article not in stock at the moment?
Frequently Bought Together: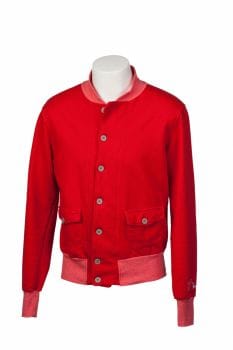 +

With the Sweat Jacket "Stiegl by Praio" you can be sure to have a sporty look.
It adds colour to your life and enhances plain jeans and shirts.

Perfect for mild evenings.

Stiegl – the beer that fits you well!
What do beer-loving and fashion-conscious people like to wear? For sure a Stiegl!
Not tapped, but woven!

In collaboration with the young Venetian fashion label "Praio", Stiegl has launched its own fashion line called "Stiegl by Praio".

Stiegl Beer and Stiegl Fashion have one thing in common: The conscious use of resources and sustainability.

Finest textiles – made in high quality with great attention to details. Just like Stiegl, Praio pays close attention to sustainable production. The raw materials are gently processed from raw, natural cotton. Environmental protection and ethical working conditions are very important in this fashion "Made in Italy".
Your Stiegl clothes are made with much love and skill – just like your favourite Stiegl Beer.
Product Information
Stiegl-Fashion Sweat Jacket
The casual Sweat Jacket is, due to the colour scheme, the strinking buttons and the stand-up collar, visually reminiscent of classic US college or baseball jackets.
This similarity is intentional - thanks to its very soft fabric, the jacket is perfectly suitable for sports training. But even as casual wear, it is perfect. And for sure: It is a real eye-catcher and enhances every outfit.
Product Information - Stiegl-Fashion Sweat Jacket
size:
various sizes (S, M, L, XL, XXL, XXXL)
colour:
red
material:
100% cotton
material design:
jersey, soft grip
neckline:
crew neck
length:
normal length
sleeves:
long sleeves (67cm at size M)
total length:
65cm at size M
fastener:
button
pockets:
side pockets
manufacturer:
Praio
country of origin:
Italy
care instructions:
machine wash cold, 30°C
do not tumble dry
details:
elastic ribbed cuffs
Other interesting products