Stiegl Freibier (20 x 0,33L)
Age rating: 0 Years
Price per liter: 3,47 EUR/l
Item No. 0019330
This article is a reservation item!
Frequently Bought Together: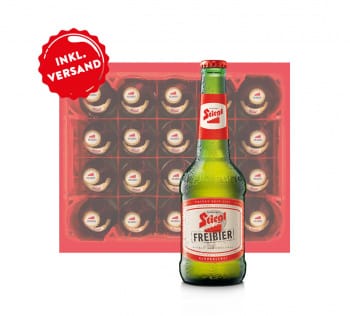 +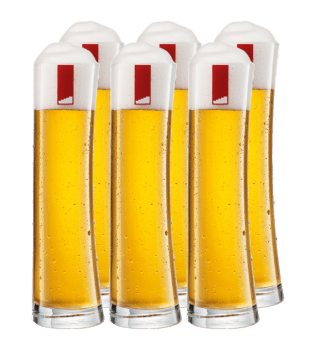 Stiegl Freibier – unfiltered and non-alcoholic
.
Stiegl Freibier is the right choice, when you are looking for a "real beer", but do without alcohol. It is refreshing, has the familiar well-balanced taste and nicely hoppy notes.
The fact that the Freibier is alcohol-free, one does not recognize in the taste. But only on the label!
Packaging: 20 x 0.33 l Bottles - Price includes FREE SHIPPING to Austria.


Please notice:
This Beverage can only be sent to postal addresses in Austria. Click here for the shipping to Germany.
This product is shipped in a 20-bottle cardboard-box, not in the regular Stiegl-beer crate.
The bottle deposit of 1.80 EUR is for the whole box of 20 bottles.
The bottle can be returned everywhere in Austria.
The Stiegl Freibier matches perfectly with our Stiegl Stange.
Gift Service available
Simply select the appropriate gift wrapping in the basket
Stiegl Freibier
A special method of production and the natural turbidity give the Stiegl Freibier a well-balanced and full taste, without alcohol*. The beer for the health- and calorie-conscious connoisseur (only 26 kcal / 100ml).

Our head brewer describes our Stiegl Freibier as follows:
"Stiegl-Freibier stands out through its full-bodied, balanced taste. Aromatic Austrian Saphir hops lend the unfiltered, non-alcoholic beer in a refreshing, lime-like taste."

This nonalcoholic isotonic thirst quencher comes across as refreshingly effervescent and rich in aroma. An unfiltered beverage, it boasts malty aromas and hints of fruit well-balanced by a fine acidity. An athletic achievement of superior brewing craftsmanship.

Product information - Stiegl Freibier
| | |
| --- | --- |
| style: | alcohol-free beer* |
| fermentation: | bottom fermented |
| gravity: | 7.3°P |
| ABV: | max. 0.5%vol.* |
| ingredients: | water, barley malt, hops, yeast, carbon dioxide from fermentation |
| ideal drinking temperature: | 5-6°C (41-43°F) |
Allergens
All of our beers and brewed beverages (e.g. lemonade) contain gluten and gluten based products.
Nutritional values (per 100g):
Energy
117 kj
28 kcal
Fats
0 g
- saturated
0 g
Carbohydrates
5.9 g
- sugars
3.2 g
Protein
<0.5 g
Sodium
<0.01 g

For more information about Stiegl Freibier, please visit stiegl.at.
Shipping Costs
When ordering only boxes of Stiegl Classics beers in boxes of 20 bottles, the shipping costs are included in the price of 24.90 EUR.

If you order additional articles in the online store, the shipping costs are 6.90 EUR (to Austria), up to a total order value of 70 EUR (i.e. price of beer-box(es) + price of further articles).
At a total order value of 70 EUR, free shipping within Austria.

For shipping costs to other countries, please see shipping & payment.

Other interesting products