Stiegl-Goldbräu South Tirol Edition 20 x 0,33 l
Age rating: 16 Years
Price per liter: 3,74 EUR/l
Item No. 0060134
This article is a reservation item!
Frequently Bought Together: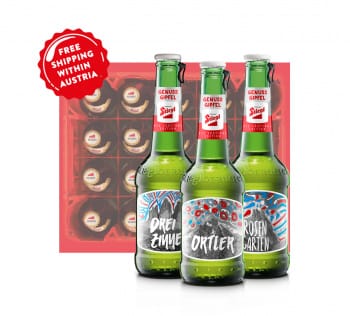 +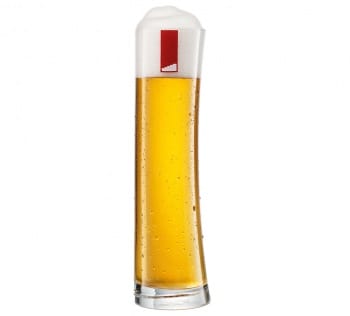 Stiegl Goldbräu – Salzburg's liquid gold
.
Stiegl Goldbräu is a smooth, full-bodied beer. It's tangy, well-balanced flavors are wonderful and refreshing.
A wonderful Salzburg beer speciality with 12% original extract.
Packaging: 20 x 0.5 l Bottles - Price includes FREE SHIPPING to Austria.


Please notice:
Beverages can only be sent to postal addresses in Austria. Click here for shippings to Germany.
This product is shipped in a 20-bottle cardboard-box, not in the regular Stiegl beer crate.
The bottle deposit of 1.80 EUR is for the whole box of 20 bottles.
The bottle can be returned everywhere in Austria.
Stiegl Goldbräu South Tirol Edition matches perfectly with the Stiegl Stange.
Gift Service available
Simply select the appropriate gift wrapping in the basket
This Beer is only available in Austria
Stiegl Goldbräu
This is THE traditional beer speciality from the Stiegl Brewery of Salzburg. Naturally brewed with the best domestic ingredients, such as water from the Untersberg mountain.

Our head brewer describes our Stiegl Goldbräu as follows:
"Stiegl-Goldbräu is a traditional Salzburg beer specialty with 12° Plato and a characteristic golden-yellow colour. A full-bodied beer with a gentle bitterness brewed by using mainly domestic ingredients. Wonderfully refreshing and very agreeable."
PRODUCT INFORMATION - Stiegl Goldbräu
| | |
| --- | --- |
| style: | Vollbier (Märzen, Premium Lager) |
| fermentation: | bottom fermented |
| gravity: | 12°P |
| ABV: | 5.0%vol. |
| ingredients: | water, barley malt, hops, yeast |
| ideal drinking temperature: | 6-8°C (43°-46° F) |
ALLERGENS
All of our beers and brewed beverages (e.g. lemonade) contain gluten and gluten based products.
Nutritional values (per 100g):
Energy
171 kj
40.9 kcal
Fats
0 g
- saturated
0 g
Carbohydrates
2.6 g
- sugars
0 g
Protein
<0.5 g
Sodium
<0.01 g

For more information about Stiegl Goldbräu, please visit stiegl.at.
Shipping
When ordering only boxes of Stiegl Classics beers in boxes of 20 bottles, the shipping costs are included in the price of 24.90 EUR.

If you order additional articles in the online store, the shipping costs are 6.90 EUR (to Austria), up to a total order value of 70 EUR (i.e. price of beer-box(es) + price of further articles).
At a total order value of 70 EUR, free shipping within Austria.

For shipping costs to other countries, please see shipping & payment.


Beverages can only be sent to postal addresses in Austria.
Other interesting products