Stiegl jute bag "Six-Pack"
Item well stocked
Age rating: 0 Years
Item No. 0006299
This article is a reservation item!
Frequently Bought Together: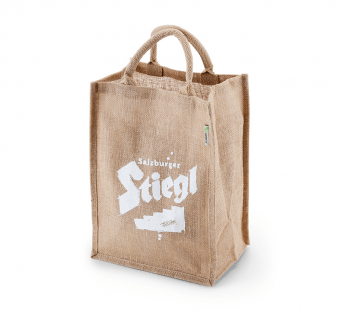 +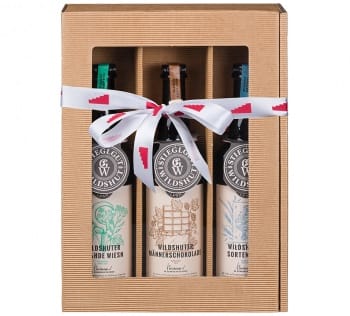 A Stiegl for every occasion!

No matter where you are - whether grocery shopping or on the way to the beach - this sturdy jute bag should always be with you.
With the sewn compartment, this bag is transformed into a convenient bottle carrier for up to six beers in no time at all. If no bottle transport is planned, you can fold the compartment to the side and have the approximately 20 liters of bag volume free for everything else you want to transport.

The elegant combination of shopping and bottle bag makes the Stiegl Jute-Sixpack your ideal everyday companion.

Stiegl Jute Bag "Six Pack"
You can use this jute bag as a six-pack, but you do not have to. It looks good, feels good in the hand - and thanks to the Green Eco Jute, it is also very sustainable.

Product Information - Stiegl Jute Bag "Six Pack"
material:
jute, cotton
size:
38 x 27.5 x 19.5 cm (HxBxT)
volume:
ca. 20 l
colour:
beige, naturfarben
details:
weißes Stiegllogo auf der Vorderseite
an einer Seite eingenähtes Gefache für bis zu sechs Flaschen
The Stiegl Experience
"Today I bake, tomorrow I brew,
The day after that the queen's child comes in." (Grimm's Fairy Tales - Rumpelstiltskin)
Beer has been enjoyed for hundreds of years. But did you know that for a long time, brewing was naturally done by women?
The production of beer was once a normal household activity - just like baking, cooking or washing. Therefore it was natural for women to stand at the brewing kettle.
It was not until the Late Middle Ages that the profession of the beer brewer developed into a male domain.
Today the brewing at the Stiegl Brewery is also in the hand of men. Our master brewers make sure that your favourite Stiegl beer always tastes as good as it always has!
STIEGL - THE SALZBURG BREWERY WITH A LONG TRADITION
For 525 years, the privately owned Stiegl Brewery stood for "the art of brewing at the top of the steps/at its highest level" ("Braukunst auf höchster Stufe").
In Salzburg we not only indulge the palates of beer lovers, but also offer an unforgettable experience for all senses. In the largest brewery museum in Austria, you will not only experience the long history of beer and the Stiegl brewery.
If you want to give yourself an insight into the process of beer brewing, you can look our brewers over the shoulder.
On
www.brauwelt.at
you find all important information for your visit. We look forward to welcome you.
Other interesting products