Item well stocked
Age rating: 0 Years
Item No. 0008242
This article is a reservation item!
Frequently Bought Together: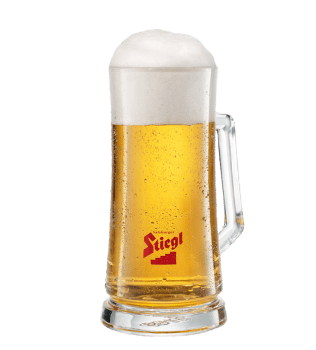 +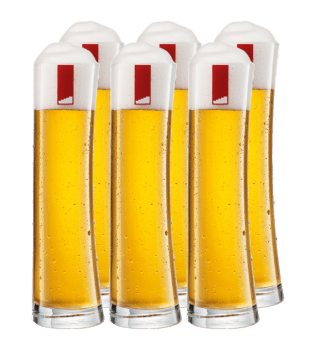 In the 16th Century people were already quenching their thirst out of pottery beer mugs.
And because time doesn't stand still our standard beer stein is made out of glass - so you can have a look at the tasty beer inside the mug

Tip: An individually engraved glass is a very special gift for Stiegl-Fans! See the text below for how it works.




Customization available
Please choose your option
There is no real drinking pleasure, without the matching beer glass.
The true connoisseur knows: The pleasure of drinking beer begins with the appearance. A bright yellow beer with a fine-pored and creamy head in a beer glass makes a really elegant impression and increases the anticipation of the first sip.
In terms of taste, it also pays to pour the beer into a proper glass. In contrast to drinking from the bottle, the nose also gets an impression of the beer, when drinking out of a glass.
It has been scientifically proven that about 90% of the sensory impressions during eating and drinking are not produced on the tongue, but are perceived by the nose. While the tongue only recognizes five basic tastes, there are hundreds - if not thousands - of aromas that can be registered by the nose.
It's all about the shape!
At Stiegl, we always pay attention to the highest quality of our products. Therefore it depends not only on what goes into the glass, but also how the Stiegl beer is presented inside the glass. It is not without reason that Stiegl's motto is "brewing art at the highest level"!
Our motto is emphasized also in the optics of our beer glasses. In order to do so, we cooperated with the renowned design company KISKA. The result is the Stiegl Beer Glass Series, which is exclusively produced by world-famous glass producers. The glasses are always stable thanks to an elegant heel and the beer is visually "one step above".
Product Information
Product Information - Stiegl Mug
The Origian Stiegl Mug is a traditional vessel with a modern design. A timeless eye-catcher at every beer table.

volume:
various sizes (0.3l & 0.5l)
size:
0.3l: 16cm / 8cm
0.5l: 19cm / 9.5cm
material:
glass
manufacturer:
Sahm
care instructions:
dishwasher-safe
beer matching:
Goldbräu
Customize
How it works:
You can make this Stiegl Glass you your very own Stiegl Glass! We happily engrave your name on your glass.
Check the box "Order with Customization" and then click on "Customize".
In the pop-up box add the desired name (up to 15 characters)
Complete the order.
Please note:
Unfortunately a glass engraving is not possible with the 0.125l Stiegl Goblet Beer Glass.
Since the glass is engraved especially four you, it might take a few days longer for the package to arrive at your home. We ask for your understanding.
Other interesting products