Stiegl Paracelsus Zwickl (20 x 0,33 l )
Stiegl Paracelsus Bio-Zwickl
–
The naturally cloudy organic beer
.
This Zwickl is a pristine, unfiltered beer with all its valuable ingredients. Freshly from the maturation-tank, into your bottle.
We brew this beer entirely with domestic organic ingredients - in particular Laufener Landweizen, an ancient grain, grown and malted at the
Stiegl-Gut Wildshut
.
Packaging: Crate 20 x 0.33 l Bottles - Price includes FREE SHIPPING to Austria.


Please notice:
Beverages can only be sent to postal addresses in Austria. Click here for shippings to Germany.
This product is shipped in the regular Stiegl beer crate.
The bottle deposit of 4.80 EUR is for the whole box of 20 bottles.
The bottle can be returned everywhere in Austria.
Stiegl Bio-Zwickl matches perfectly with our Beer Glas.
Gift Service available
Simply select the appropriate gift wrapping in the basket
This Beer is only available in Austria
Age rating: 16 Years
Price per liter: 3,77 EUR/l
Item No. 0019032
This article is a reservation item!
Frequently Bought Together: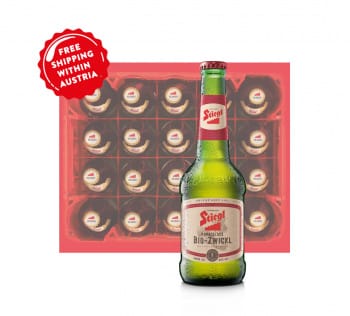 +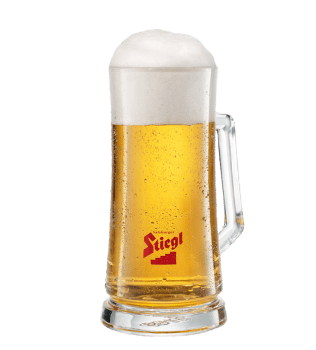 =
Stiegl Paracelsus Bio-Zwickl
The Paracelsus Bio-Zwickl stands out for its fine malty flavour. While brewing this beer, we add some Laufener Landweizen. This particular ancient grain is endemic to the Salzburg-region. It has long been forgotten but was rediscovered some 20 years ago. Now it's getting cultivated again and malted right on our Stiegl-Farm Wildshut. Due to the lack of filtration, this organic beer contains all the valuable ingredients such as vitamins, minerals and micronutrients. The smooth flavour of Stiegl Paracelsus Zwickl is being rounded off by the Laufener Landweizen speciality malt.
A truly divine beer!

Our head brewer describes our Stiegl Paracelsus Bio-Zwickl as follows:
"Only domestic ingredients from controlled biological cultivation are used in this amber-colorued, natural and traditional beer specialty from Salzburg. A subtly aromatic, hoppy flavour and a mild and velvety taste make this Zwickl a pleasure to enjoy."
Product information - Stiegl Paracelsus Bio-Zwickl
| | |
| --- | --- |
| Style: | Full beer (Zwickl) |
| Fermentation: | bottom-fermented |
| Gravity: | 12°P |
| ABV: | 5,0 % vol. |
| Ingredients: | water, BIO-barley malt, BIO-wheat malt, BIO Laufener Landweizen malt (wheat), BIO-hops, yeast |
| Ideal drinking temperature | 6-8°C (43°-46° F) |

Allergens
All of our beers and brewed beverages (e.g. lemonade) contain gluten and gluten based products.

Nutritional values (per 100g):
| | |
| --- | --- |
| Energy: | 163 kj / 39 kcal |
| Fats: | 0 g |
| - Saturated: | 0 g |
| Carbohydrates: | 1,6 g |
| - Sugars: | 0 g |
| Protein: | < 0,6 g |
| Sodium: | < 0,01 g |

All ingredients marked with "BIO" have the organic control point code AT-BIO-501. This means that they are certified organic by the control centre Salzburger Landwirtschaftlichen Kontroll GesmbH (SLK).
You can find more information on the organic certificates of Stiegl at stiegl.at. For more information about Stiegl Paracelsus Bio-Zwickl, please visit stiegl.at.
Shipping
When ordering only boxes of Stiegl Classics beers in boxes of 20 bottles, the shipping costs are included.

If you order additional articles in the online store, the shipping costs are 6.90 EUR (to Austria), up to a total order value of 70 EUR (i.e. price of beer-box(es) + price of further articles).
At a total order value of 70 EUR, free shipping within Austria.

For shipping costs to other countries, please see shipping & payment.

Other interesting products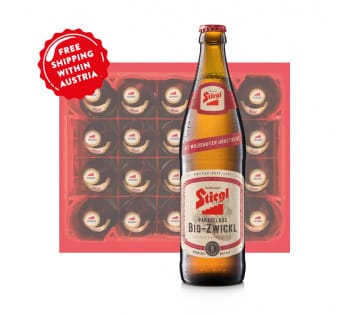 23,90
EUR
No shipping to your Country available
No shipping to your Country available