Stiegl Puzzle Brewhouse Gang
Item well stocked
Age rating: 0 Years
Item No. 0006119
This article is a reservation item!
Stiegl Puzzle "Brewhouse Gang"
Who is needed, in order to make the good Stiegl beer?
Exactly - the five couples of the Stiegl Brewhouse Gang!
Spelzi and Malzi: The two spring barley girls from Stiegl-Farm Wildshut
Schaumi and Herbi: The shaggy taste-bolts from the Mühlviertel
Glucksi and Quelli: The bubbling deep-well fellows from the Undersberg-Region
Zucki and Blubbi: The quick-changing artists from the master brewer's treasure chest
Halsi and Bauchi: The slender glass creatures from the box
Product Information - Stiegl Puzzle "Brewhouse Gang"
| | |
| --- | --- |
| Size: | 29 x 21 cm |
| Motive: | Stiegl Brewhouse Gang: the raw material of beer |
| Number of Pieces: | 100 pieces |
| Material: | cardboard |
The Stiegl-Experience
"Today I bake, tomorrow I brew,
The day after that the queen's child comes in." (Grimm's Fairy Tales - Rumpelstiltskin)
Beer has been enjoyed for hundreds of years. But did you know that for a long time, brewing was naturally done by women?
The production of beer was once a normal household activity - just like baking, cooking or washing. Therefore it was natural for women to stand at the brewing kettle.
It was not until the Late Middle Ages that the profession of the beer brewer developed into a male domain.
Today the brewing at the Stiegl Brewery is also in the hand of men. Our master brewers make sure that your favourite Stiegl beer always tastes as good as it always has!
STIEGL - THE SALZBURG BREWERY WITH A LONG TRADITION
For 525 years, the privately owned Stiegl Brewery stood for "the art of brewing at the top of the steps/at its highest level" ("Braukunst auf höchster Stufe").
In Salzburg we not only indulge the palates of beer lovers, but also offer an unforgettable experience for all senses. In the largest brewery museum in Austria, you will not only experience the long history of beer and the Stiegl brewery.
If you want to give yourself an insight into the process of beer brewing, you can look our brewers over the shoulder.
On
www.brauwelt.at
you find all important information for your visit. We look forward to welcome you.
Other interesting products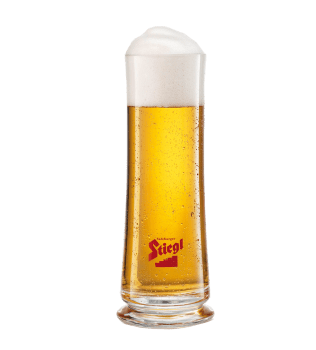 3,10
EUR
No shipping to your Country available
No shipping to your Country available
23,90
EUR
No shipping to your Country available
No shipping to your Country available