Stiegl Sport-Weisse alcohol-free (20 x 0.5 l)
Stiegl Sport Weisse – the calorie-reduced, isotonic sports drink.
Whether after a long, exhausting day or after work-out - when your batteries are low, you want to treat yourself with something that is good for your body.
Stiegl Sport Weisse ist just the beverage you are looking for. Nice aroma, fine acidity and isotonic properties. All the best ingredients, only without alcohol*.
Packaging: Crate 20 x 0.5 l Bottles - Price includes FREE SHIPPING to Austria.


Please notice:
Beverages can only be sent to postal addresses in Austria. Click here for shippings to Germany.
This product is shipped in the regular Stiegl-beer crate.
The bottle deposit of 4.80 EUR is for the whole box of 20 bottles.
The bottle can be returned everywhere in Austria.
The Stiegl Goldbräu matches perfectly with our Stiegl Becher.
This Beer is only available in Austria
Age rating: 16 Years
Price per liter: 2,29 EUR/l
Item No. 0000496
This article is a reservation item!
Stiegl Sport Weisse (alcohol free wheat beer)
Our Stiegl Sport Weisse shines cloudy amber coloured inside the glass. This non-alcoholic wheat beer is a perfect thirst quencher. 100% flavoúr, just without alcohol* - the ideal beverage after sports activities, for designated drivers, or just "because it tastes so good".

Our head brewer describes our Stiegl Sport Weisse as follows:
"This non-alcoholic isotonic thirst quencher comes across as refreshingly effervescent and rich in aroma. An unfiltered beverage, it boasts malty aromas and hints of fruit well-balanced by a fine acidity. An athletic achievement of superior brewing craftsmanship."
Product information - Sport Weisse
| | |
| --- | --- |
| Style: | non-alcoholic wheat beer |
| Fermentation: | top-fermented |
| Gravity: | 7,4°P |
| ABV: | max. 0,5 % vol.* |
| Ingredients: | water, wheat malt, barley malt, hops, yeast, carbon dioxide from fermentation |
| Ideal drinking temperature | 6-8°C (43°-46° F) |
| Ideal Glass | Stiegl Wheat Beer Glass |

Allergens
All of our beers and brewed beverages (e.g. lemonade) contain gluten and gluten based products.

Nutritional values (per 100g):
| | |
| --- | --- |
| Energy: | 111 kj / 26,6 kcal |
| Fats: | 0 g |
| - Saturated: | 0 g |
| Carbohydrates: | 5.5 g |
| - Sugars: | 3.0 g |
| Protein: | < 0,5 g |
| Sodium: | < 0,01 g |

For more information about Stiegl Sport Weisse, please visit stiegl.at.


* According to chapter B13 of the "Codex Alimentarius Austriacus" (Austrian Food Code), alcohol-free beer must contain less than 0.5% vol. alcohol.
Shipping Costs
When ordering only boxes of Stiegl Classics beers in boxes of 20 bottles, the shipping costs are included in the price.

If you order additional articles in the online store, the shipping costs are 6.90 EUR (to Austria), up to a total order value of 70 EUR (i.e. price of beer-box(es) + price of further articles).
At a total order value of 70 EUR, free shipping within Austria.

For shipping costs to other countries, please see shipping & payment.



The Stiegl-Experience
"Beer is a truly divine medicine." (Paracelsus)
Beer has been enjoyed hundreds of years ago. But did you know that beer has been one of the few "safe" foods for a long time?
Up to the early Modern Period, clean drinking water was the exception rather than the rule. Very often epidemics were caused by polluted water. Since beer is boiled during the brewing process, bacteria from the water are killed. In addition to that, beer contains hops and alcohol. Both of which have germ-inhibiting properties. Thus, beer was a safe drink in early times. It is also very nutritious and contains a number of vitamins and minerals. So it was not only Saint Hildegard of Bingen but also Salzburg's doctor and mystic Paracelsus, who underlined the high value of beer.
Up until today, our brew masters take good care of this fact, so your Stiegl beer is a truly divine drink.
STIEGL - THE SALZBURG BREWERY WITH A LONG TRADITION
For 525 years, the privately owned Stiegl Brewery stood for "the art of brewing at the top of the steps/at it's highest level" ("Braukunst auf höchster Stufe").
In Salzburg we not only indulge the palates of beer lovers, but also offer an unforgettable experience for all senses. In the largest brewery museum in Austria, you will not only experience the long history of beer and the Stiegl brewery.
If you want to give yourself an insight into the process of beer brewing, you can look our brewers over the shoulder.
On
www.brauwelt.at
you find all important information for your visit. We look forward to welcome you.
Other interesting products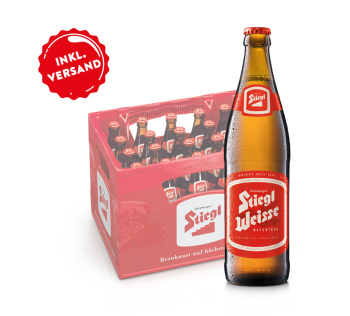 22,90
EUR
No shipping to your Country available
No shipping to your Country available