Stiegl Stange Glass 6-pack (0.3 l)
A great beer deserves an exclusive glass.

We all know - it's not only about the taste, but also about the looks! The elegantly asymmetrical Stiegl Stange Glass is specially designed for our beers. The form enhances the beer's aromas and is therefore perfectly for enjoying dry, light beers, such as Pilsner.

Reserve item
If you would like to be informed when this product is back in stock, please enter your desired quantity and e-mail address.
As soon as the article is available again in your desired quantity, you will receive an e-mail from us.
Age rating: 0 Years
Item No. 0008258
This article is a reservation item!
Frequently Bought Together: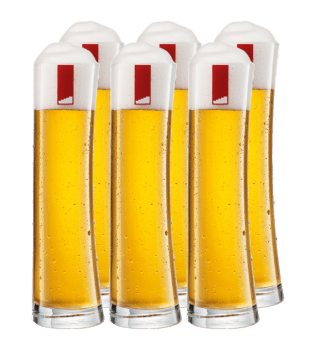 +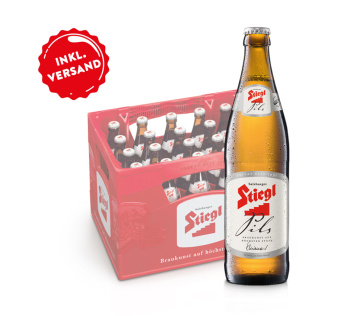 =
There is no real drinking pleasure, without the matching beer glass.
The true connoisseur knows: The pleasure of drinking beer begins with the appearance. A bright yellow beer with a fine-pored and creamy head in a beer glass makes a really elegant impression and increases the anticipation of the first sip.
In terms of taste, it also pays to pour the beer into a proper glass. In contrast to drinking from the bottle, the nose also gets an impression of the beer, when drinking out of a glass.
It has been scientifically proven that about 90% of the sensory impressions during eating and drinking are not produced on the tongue, but are perceived by the nose. While the tongue only recognizes five basic tastes, there are hundreds - if not thousands - of aromas that can be registered by the nose.
It's all about the shape!
At Stiegl, we always pay attention to the highest quality of our products. Therefore it depends not only on what goes into the glass, but also how the Stiegl beer is presented inside the glass. It is not without reason that Stiegl's motto is "brewing art at the highest level"!
Our motto is emphasized also in the optics of our beer glasses. In order to do so, we cooperated with the renowned design company KISKA. The result is the Stiegl Beer Glass Series, which is exclusively produced by world-famous glass producers. The glasses are always stable thanks to an elegant heel and the beer is visually "one step above".

A rule of thumb is: Light beers in thin glasses, strong beers in curved glasses!
The Stiegl Trophy is the perfect glass for a pils – preferably straight from the tap!
Product Information
Product Information - Stiegl Stange Glass
| | |
| --- | --- |
| volume: | 0.3l |
| size: | 21.5 cm / 6 cm |
| quantity: | 6 glasses |
| material: | glass |
| manufacturer: | Mäser |
| care instructions: | dishwasher-safe |
| beer matching: | Stiegl Pils |
Other interesting products