Age rating: 0 Years
Item No. 0141476
This article is a reservation item!
Frequently Bought Together: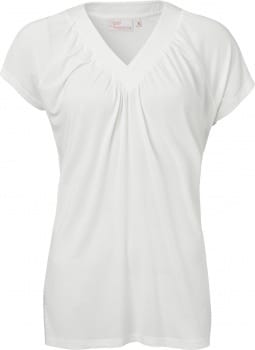 +

This plain and comfortable, yet striking Stiegl Ladies' Shirt is a real eye-catcher.
Not least thanks to the Stiegl logo, which is "embroidered" on the lower left side with rhinestones.
Thanks to the use of wood-based fibres, this shirt is particularly sustainable! So you not only look magnificent, but also do something good for mother nature
This shirt is also available in
red
and
grey
.
How beer turns into fashion.
What do sporty and beer-loving ladies and gentlemen wear today? A fresh Stiegl!
Not tapped, but woven.

The label "Stiegl-Fashion" was created with the aim of offering high-quality, sustainable clothing for Stiegl-fans. In the same way we produce our beer with as much Austrian ingredients as possible, we pay close attention to our fashion possibly being 100% "made in Europe". In collaboration with selected partners, we offer you the finest fashion, which is made with just as much love and skill as our beers.

So Stiegl not only does brew great beers - Stiegl also makes you beautiful!
Product Information
Stiegl-Fashion Ladies' Shirt, white
You can say that the "Stiegl-Fashion" Ladies' Shirts grow on trees...
Well - almost!
These shirts are made of modal fibres. They are made of wood-based cellulose and are obtained from native beech trees. The fabric is not only ecological and renewable, but also very soft and unbelievably light. It is characterized by particular skin friendliness, breathability and absorbency.
Thanks to the high modal percentage in the Ladies' Shirt (modal is trice as soft as cotton!), you get an expremely soft garment.

Product Information - Stiegl-Fashion Ladies' Shirt, white
| | |
| --- | --- |
| manufacturer: | Steger / MillionX |
| size: | various sizes (XS, S, M, L, XL, XXL, XXXL) |
| colour: | white |
| material: | 92% modal, 8% spandex |
| collar: | v-neck |
| country of origin: | Greece |
| care instructions: | machine wash at 40°C |
| details: | Stiegl-Logo made with rhinestones |
Other interesting products