Wildshuter Bio-Bier Haartonic Haartonic & Festiger
Item well stocked
Age rating: 0 Years
Item No. 0300262
This article is a reservation item!
Frequently Bought Together: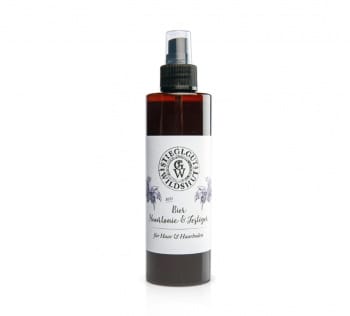 +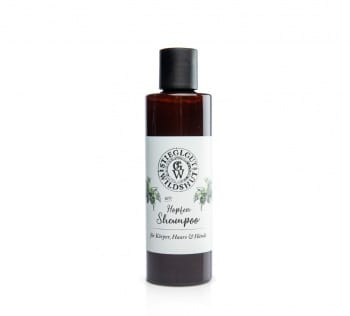 Wildshuter BIO-BIER HAARTONIC & FESTIGER
für Haar & Haarboden

Unser Shampoo haben wir gemeinsam mit Pieper Biokosmetik Manufaktur entwickelt.

Bier ist ein altbewährtes Hausmittel, um Haare und Haarboden zu nähren und zu stärken. Für unser Wildshuter Bio-Bier Haartonic haben wir Bio-Bier aus Urgetreide verwendet. Der Hopfenextrakt wirkt beruhigend auf die Kopfhaut und verleiht dem Haar mehr Fülle und Festigkeit.

Unser Bio-Bier Haartonic enthält einen Bieranteil von 60 % unseres Bio-Bieres Wildshuter Sortenspiel sowie Rosenwasser, Hopfenextrakt, Gerstenmalz und ätherische Öle.

Da uns bei den Produkten der Kreislaufgedanke sehr wichtig ist, ist unser Karton aus 100% Altpapier und die Flasche aus 100% Recyclat.

Anwendung: Das Tonic wird entweder in das gewaschene, nasse Haar oder auch auf das trockene Haar aufgesprüht.

Einheit: 1 x 200 ml Flasche

Gift Service available
Simply select the appropriate gift wrapping in the basket
"Bei uns isst und trinkt der Bauer wirklich nur, was er kennt."
Markus Trinker, Kreativ-Braumeister
Unser Stiegl-Gut Wildshut ist das erste Biergut Österreichs. Hier in St. Pantaleon – ca. 30 Kilometer nördlich der Stadt Salzburg – betreiben wir eine Bio-Landwirtschaft und widmen uns intensiv den Themen Bodengesundheit und Artenvielfalt. So züchten wir alte, vom Aussterben bedrohte Tierrasen und bauen seltene Urgetreidesorten an, die wir vor Ort vermälzen, rösten und daraus unsere Wildshuter Bierspezialitäten brauen.
IMPULSZENTRUM FÜR KÖRPER, GEIST & SEELE
In hofeigenen Kråmerladen wird der Genuss großgeschrieben: hier servieren wir selbstgebackenes Brot und verschiedene Köstlichkeiten, wie zum Beispiel selbstgemachten Käse, Lardo vom Mangalitza Schwein oder dry aged beef vom Pinzgauer Rind – dazu unsere Wildshuter Biere. Wer das einzigartige Ambiente von Wildshut länger genießen möchte, kann hier auch übernachten. Zudem bietet das Gästehaus mit elf Zimmern sowie zwei Seminarräumen auch das perfekte Umfeld für Seminare und Tagungen. In den Zimmern verzichten wir bewusst auf WLAN und Fernseher. Für die Ausstattung wurden nur hochwertige, heimische Materialien wie etwa Zirbenholzbetten und Hopfenkissen verwendet. Ein eigener "Raum der Stille" und eine Bibliothek komplettieren das Angebot.
DU WILLST UNS BESUCHEN?
Alle Infos zum Biergut Wildshut
findest du unter:
www.biergut.at
"WILDSHUT IST GENAUSO, WIE WIR UNS DEN HIMMEL VORSTELLEN: EIN BIERGARTEN EDEN."
Gespannt? Dann schau dir den
Imagefilm über unser Stiegl-Gut Wildshut
- dem 1. Biergut Österreichs - an.
EIN STÜCK WILDSHUT FÜR ZU HAUSE
Ein Hingucker für jedes Bücherregal oder den Wohnzimmertisch ist unser
Buch "Gut Wildshut"
.
Darüber hinaus findest du weitere interessante Wildshut-Artikel in der
Shop-Kategorie "Wildshut".
Infothek
Bezeichnung

Wildshuter BIO-BIER HAARTONIC & FESTIGER
für Haar & Haarboden

Produkt

Füllmenge: 200 ml
Inhaltsstoffe: 60% Wildshuter Sortenspiel, Rosenwasser, Hopfenextrakt, Gerstenmalz, ätherische Öle

Wirkung

haarwuchsfördernd

Haltbarkeit

2 Jahre

Verpackung

Karton aus 100% Altpapier
Flasche aus 100% Recyclat (Altplastik aus dem gelben Sack)


Other interesting products