Wildshuter Bio-Urbier (2018 Edition)
Age rating: 16 Years
Price per liter: 41,50 EUR/l
Item No. 0019155
This article is a reservation item!
Article not in stock at the moment?
Frequently Bought Together: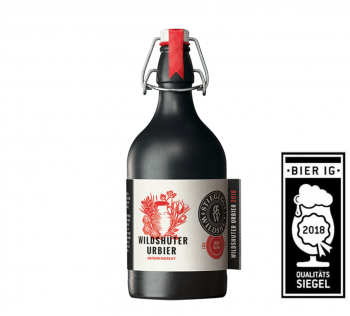 +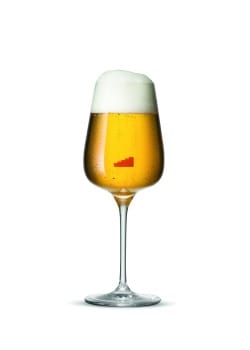 Again for 2018, a new edition of the unique and popular "Wildshuter Urbier" was brewed at our Stiegl-Farm Wildshut.
This new edition has been brewed, using exclusively ingredients known in ancient times. Such as ancient grains, spices, honey and dates.
You will be surprised of the exceptional flavours of the Wildshut Urbier.

At the 2018 Austrian Beer Challenge, Wildshuter Urbier won the gold medal for the category "Creative beers (sour, smoke, alternative sources of extract)" and is thus awarded the BierIG Quality Seal 2018.

Unit: 1 x 0,5 l bottle

Limited Edition! Get your bottle while stocks last.


Beverages can only be sent to postal addresses in Austria.

This Beer is only available in Austria
"With us, the farmer actually only eats and drinks, what he knows."
Markus Trinker, creative head-brewer
Our Wildshut Stiegl estate is Austria's first beer farm. It stands for sustainable agriculture and diversity. Our organic farm is home to significant old and endangered animal breeds, in addition we cultivate long forgotten primeval grains, with which produce our unique beer specialties. Here we take all the steps of brewing beer into our own hands.
CENTRE FOR BODY, MIND and SOUL
The "Kråmerladen" bistro and shop offers mainly homemade delicacies: tasty, home-baked bread, dry-aged meat from our Pinzgau cattle or from Mangalitza pork, various cheese delicacies and, of course, the Wildshut beers. For those who want to stay longer and enjoy the unique atmosphere of this magical estate, the Wildshut guesthouse offers overnight accommodation. In the eleven rooms we have deliberately dispensed with Wi-Fi and televisions. All rooms are furnished with only local and high-quality materials. Hop pillows and pine wood beds ensure a perfect good night's sleep. A separate "Room of Silence" has been reserved for meditating, and a well-stocked library completes our offer.
YOU'D LIKE TO VISIT US?
For all information about the Wildshut Beer Farm, please visit:
www.biergut.at
(website in German)
"WILDSHUT IS JUST THE WAY WE IMAGINE HEAVEN TO BE: A BEERGARDEN OF EDEN."
Did we catch your attention? Have a look at our
image film about our Stiegl-Farm Wildshut
- Austria's 1st Beer Farm.
YOU WOULD LIKE TO HAVE YOUR VERY OWN PIECE OF WILDSHUT FOR AT HOME?
The
book "Gut Wildshut"
is truly an eye-catcher for every bookshelf or living room table.
You'll find more interesting Wildshut-products at the
shop category "Wildshut".
Product Information
Wildshuter URBIER (Edition 2018)
An experiment with a happy ending:
How could beer have tasted some 5000 years ago? This was the initial question, when our creativ brewers sat down and developed the recipe for the Wildshuter Urbier. The original experimentation resulted into the first Wildshuter Urbier "Edition 2016". But the process of development did not end with that. The 2018-edition is an optimized brew. Still solely made with ancient grains farmed and malted at our Stiegl-Farm Wildshut, as well as other ingredients known to humankind about 5000 years ago. Since hops was not used by that time, other spiced are used to give Wildshuter Urbier its unique flavours. After the brewing was done, the Wildshuter Urbier put into Quevri.
In these traditional, large earthenware vessels, hand made in Georgia and then burried in the grounds of Stiegl-Farm Wildshut, the brew was left to ferment and mature from Saint Michael's Day until Saint George's Day. The result is a unique and strictly limited speciality beer.

Our creative head brewer describes our Wildshuter Urbier as follows:
"Matured in Georgian kvevris, this beer is as unique as its place of origin. Brewed from ancient Wildshut grain, this ancient brew was fermented in the open air in hand-thrown clay amphorae. The addition of honey, dates and spices led to the creation of a beer that was probably enjoyed 5,000 years ago: a vivacious, citrus-herb aroma and the appealing interplay between a lively acidity, a pronounced dryness and a champagne-like effervescence still surprise the palate, tongue and throat to this day."


Product information - Wildshuter Urbier (Ed. 2018)
| | |
| --- | --- |
| Style: | strong beer (specialty beer) |
| Fermentation: | bottom-fermented |
| Gravity: | 21°P |
| ABV: | 10.2 % vol. |
| Ingredients: | water, organic barley-malt (Alpine Pfauengerste), organic spelt-malt (Ebners Rotkorn), organic wheat-malt (Laufener Landweizen), organic honey, organic dates, organic yarrow, organic coriander, organic anise, organic safron, yeast |
| Ideal drinking temperature | 8-12°C (46-54°F) |
| Ideal glass ware | Stiegl Tulip Beer Glass |

0.5l disposable bottle.

All ingredients marked with "BIO" have the organic control point code AT-BIO-501. This means that they are certified organic by the control centre Salzburger Landwirtschaftlichen Kontroll GesmbH (SLK).
You can find more information on the organic certificates of Stiegl at stiegl.at.
Allergens
All of our beers and brewed beverages (e.g. lemonade) contain gluten and gluten based products.


Other interesting products