Wildshuter Sortenspiel (0,25 l)
Age rating: 16 Years
Price per liter: 15,60 EUR/l
Item No. 0019787
This article is a reservation item!
Frequently Bought Together:
+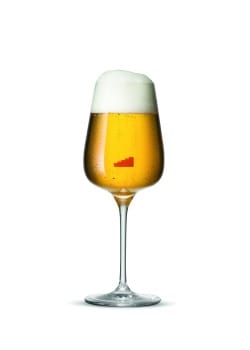 Wildshuter Sortenspiel -
A specialty, brewed with the finest ancient grains from Wildshut
.
Small bottle - big delight: The "Wildshuter Sortenspiel family" gets new offspring! In addition to the
regular 0.75 litre bottle
and the
1.5 litre magnum bottle
, the Wildshuter Sortenspiel is now also available in the small 0.25 litre bottle.
This is the ideal serving for the somewhat smaller "Big Moments"!
It is balanced, full-bodied and yet mild: This honey-colored, top-fermented beer specialty is brewed with the finest ancient grains from Stiegl-Gut Wildshut. Fresh, flowery flavors from the yeast mix with those of the best Mühlviertel aromatic hops.
0.25 l Bottle
Beverages can only be sent to postal addresses in Austria.
This Beer is only available in Austria
"With us, the farmer actually only eats and drinks, what he knows."
Markus Trinker, creative head-brewer
Our Wildshut Stiegl estate is Austria's first beer farm. It stands for sustainable agriculture and diversity. Our organic farm is home to significant old and endangered animal breeds, in addition we cultivate long forgotten primeval grains, with which produce our unique beer specialties. Here we take all the steps of brewing beer into our own hands.
CENTRE FOR BODY, MIND and SOUL
The "Kråmerladen" bistro and shop offers mainly homemade delicacies: tasty, home-baked bread, dry-aged meat from our Pinzgau cattle or from Mangalitza pork, various cheese delicacies and, of course, the Wildshut beers. For those who want to stay longer and enjoy the unique atmosphere of this magical estate, the Wildshut guesthouse offers overnight accommodation. In the eleven rooms we have deliberately dispensed with Wi-Fi and televisions. All rooms are furnished with only local and high-quality materials. Hop pillows and pine wood beds ensure a perfect good night's sleep. A separate "Room of Silence" has been reserved for meditating, and a well-stocked library completes our offer.
YOU'D LIKE TO VISIT US?
For all information about the Wildshut Beer Farm, please visit:
www.biergut.at
(website in German)
"WILDSHUT IS JUST THE WAY WE IMAGINE HEAVEN TO BE: A BEERGARDEN OF EDEN."
Did we catch your attention? Have a look at our
image film about our Stiegl-Farm Wildshut
- Austria's 1st Beer Farm.
YOU WOULD LIKE TO HAVE YOUR VERY OWN PIECE OF WILDSHUT FOR AT HOME?
The
book "Gut Wildshut"
is truly an eye-catcher for every bookshelf or living room table.
You'll find more interesting Wildshut-products at the
shop category "Wildshut".
Product Information
Wildshuter Sortenspiel
A beer as unique as the place: The first and only Austrian beer with its own organic farm, malt house, roasting house and quality standards. Have a taste of nature!

Our head brewer describes the Wildshuter Sortenspiel as follows:
"This pale, honey-colored specialty beer is brewed with the finest ancient Wildshuter grain, resulting in a balanced, full-bodied yet mild beer. Fresh notes of flowery yeast coupled with the flavor of Mühlviertel aromatic hops charm the nose. Velvety soft on the tongue while rounding off to a harmonious close, "Wildshuter Sortenspiel" leaves a long-lasting impression."

Product Information - Wildshuter Sortenspiel
| | |
| --- | --- |
| Style: | Full beer rye |
| Fermentation: | top-fermented |
| Gravity: | 12°P |
| ABV: | 5 % vol. |
| Ingredients: | water, organic barley malt, organic spelt malt, organic black oats, organic emmer malt, organic hops, yeast |
| Ideal drinking temperature | 7-9°C (45-48°F) |
| Ideal glass ware | Stiegl Tulip Beer Glass |
| Cilunary matching | creamy and bisque soups, vegetable dishes, fried fish, stewed meat, fruity desserts, cheese |

All ingredients marked with "BIO" have the organic control point code AT-BIO-501. This means that they are certified organic by the control centre Salzburger Landwirtschaftlichen Kontroll GesmbH (SLK).
You can find more information on the organic certificates of Stiegl at stiegl.at.
Allergens
All of our beers and brewed beverages (e.g. lemonade) contain gluten and gluten based products.

Wildshuter Sortenspiel is also available in the regular 0.75 litre bottle and the 1.5 litre magnum bottle,

For more information about Wildshuter Sortenspiel, please visit stiegl.at.
Other interesting products
a high-proof speciality
No shipping to your Country available
No shipping to your Country available